Love Local Trust Local
Here at Love Local Trust Local, we want to put consumer trust back into buying local, Dorset food with genuine provenance and full traceability.
The Cossins family are fifth generation farmers and as well as their farm they own a freehouse pub and a butchery & farm shop in the Tarrant Valley, just outside of Blandford Forum in Dorset. Both The Langton Arms in Tarrant Monkton and Rawston Farm Butchery & Farm Shop in Tarrant Rawston are well-known for fantastic, local Dorset food & drinks.
As supporters of the LEAF campaign, every third year we host Open Farm Sunday on the family farm. We take this opportunity to talk to as many local people as possible about the food they eat. Our visitors love knowing the story of their food, the miles it has travelled and that they are buying & eating genuine local produce. But what they often ask us is, how do we know that the food we buy elsewhere really is what it says it is?
Many of these conversations took place back at our 2018 event and it was clear that the many scare stories in the newspapers & media had created doubt in many of their minds, so we decided to do something about it.
We created our very own Love Local Trust Local label for Dorset food you can trust.
Quality Honesty Proximity
This food has been grown with love & care and to the highest ethical standards
This food has transparent and full provenance and complete traceability
This food has been produced with the main ingredients sourced from less than 30 miles of its' origin
This food fosters community spirit & is good for our overall environment
We use the label ourselves and now share it with carefully selected Dorset businesses that share our ethos and also believe in local, well-sourced food from our fabulous county including our winners and runner-up's of the Love Local Trust Local Awards!
In the summer of 2020, despite the Covid-19 pandemic, we launched the inaugural Love Local Trust Local Awards for Dorset Food & Drink producers, farmers and fishermen. We were hesitant at first and tempted to delay our plans. However, what better time than in the midst of a global health crisis to promote buying and consuming local food & drink with provenance you can trust?
The inaugural awards received not only some fabulous entries but were deemed a huge success by our sponsors and judges who thoroughly enjoyed the process and created significant interest in the press and from many Dorset businesses wanting to be involved. No mean feat in the midst of a pandemic! The Cossins family are passionate about Dorset, Food & Drink and advocates of promoting British farming and the collaboration of small, local businesses working together. Their intention is for the Love Local Trust Local Awards to grow and to be around for many years to come in the support of all that is Dorset!
If you would like to be part of this, please take a look at our categories, choose the ones for you and complete the entry form.
If you are a small, independent Dorset business that fits our Love Local Trust Local ethos and would like our labels to use, please get in touch with us at awards@lovelocaltrustlocalawards.co.uk
If you would like to sponsor a category or element of our awards, you can find out more from our Sponsors page.
We look forward to welcoming you to the Love Local Trust Local food & drink family.
Best wishes
Barbara
Barbara Cossins
Founder, Love Local Trust Local & Love Local Trust Local Awards
Owner, The Langton Arms & Rawston Farm Butchery & Farm Shop
A rich & rewarding history in the local Dorset community
The Langton Arms is a beautiful, multi award-winning 17th century thatched country pub with its own restaurant, function room & private gardens. Nestled in the heart of chocolate box Dorset countryside, it is situated in the pretty village of Tarrant Monkton with six en-suite bedrooms if you fancy staying over. The pub can be found at the heart of the village, far from the hustle and bustle of modern life. It sits opposite the beautiful All Saints Parish Church which dates back to the 15th century.
Voted Best Country Pub in Dorset 2018 by SME Business Awards, Best Food & Drink Business 2017 at the Taste of Dorset Awards & Best Pub in Dorset by The National Pub & Bar Awards 2016. The Langton Arms was also winner of the prestigious Best Overall Food Business Taste of Dorset Award 2015. The owner and landlady Barbara Cossins was awarded Businesswoman of the Year for Dorset 2016. Here she talks about the pub and what makes it such a special place.
The pub has been owned and run by Barbara for more than 25 years. The Cossins family have been farming in the Tarrant Valley for five generations and have their own Rawstar Herd and raise traditional cattle breeds of Aberdeen Angus and Herefords. This wonderful local meat supplies the pub menu and is also available from the family-run butchery & shop in Tarrant Rawston, offering traditional cuts of meat, poultry, seasonal game and sausages.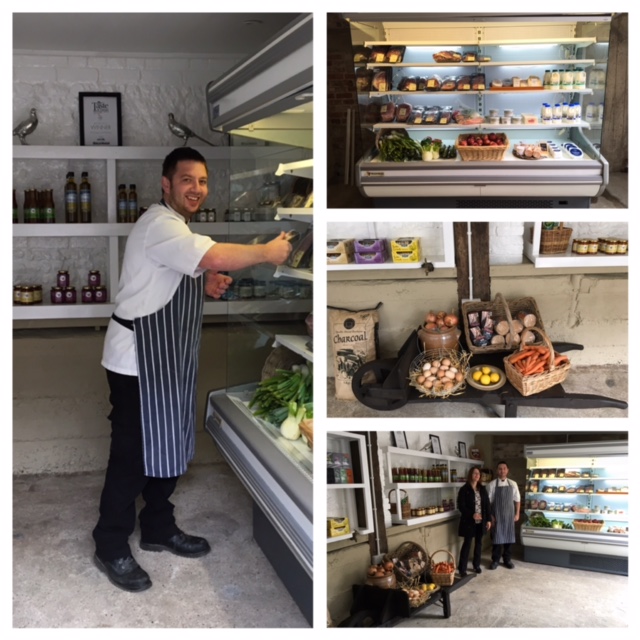 The fall and rise of The Langton Arms, Tarrant Monkton
In 2004 a fire ravaged the main thatched building bringing 14 fire engines to put it out and almost completely destroying the whole pub. Barbara and her team worked day and night to rebuild the damaged parts of the building as well as the business itself and opened for its first wedding only a week later. Today, The Langton Arms is stronger than ever and opens its doors seven days a week to water, feed and entertain both locals and visitors from far afield.